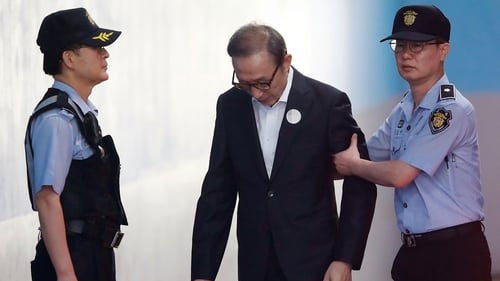 A South Korean court sent former president Lee Myung-bak to jail for 15 years for corruption on Friday.
The court also said it was not appropriate for Lee to continue denying his charges, as concrete evidence was found to back the allegations.
Former South Korean president Lee Myung-bak was jailed for 15 years on October 5 for corruption, becoming the latest of the country's ex-leaders to be formally convicted of criminal offences.
Conservative Lee's successor Park Geun-hye was sentenced to 25 years in prison and fined millions of dollars for bribery and abuse of power.
Lee and prosecutors have one week to appeal, according to the court.
Five Potential Replacements For Jose Mourinho At Manchester United
But I left Old Trafford in the firm belief that, at best, he might have earned himself a reprieve as Manchester United's manager. It comes with current manager Jose Mourinho under vast pressure at Manchester United despite beating Newcastle 3-2 yesterday.
During the televised trial, the Seoul District Court ruled that the 76-year-old is the de facto owner of his brother's company, DAS, which is at the centre of the corruption investigation. Prosecutors had demanded 20 years in jail, a 15 billion won fine and the forfeiture of 11.1 billion won against Lee. The back-to-back scandals badly wounded conservatives in South Korea and deepened a national divide.
Lee faced charges that he accepted about $US10 million ($14.1 million) in illegal funds from institutions like Samsung and his own intelligence service, fuelling ongoing concerns over the cosy ties between government and business leaders.
Regarding the long-disputed ownership of the controversial DAS, an auto parts maker, the court concluded that Lee is the actual owner and that he had ordered his aides to amass slush funds.
Moon won last year's election on a promise to root out the nexus of corruption between the political and business elites, and proposed revising the constitution to, among other things, reduce the power of the president over the judiciary and the president's power to pass special pardons.
According to Lee, Moon was close to another ex-president, Roh Moo-hyun, whom Lee investigated on suspicion of corruption earlier. Moon, who was Roh's friend and his presidential chief of staff, responded with fury, calling his accusation a challenge to South Korea's judiciary order. After leaving office, both spent time in jail on bribery, treason, munity and other charges.