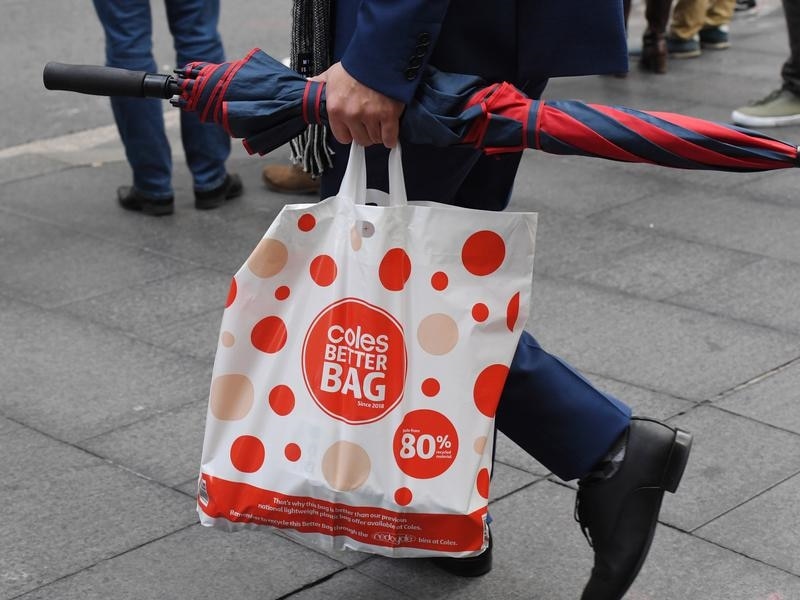 The backflip prompted rival Woolworths to reaffirm its commitment to banning single-use plastic bags, and another player, Harris Farm Markets, to plead with the NSW state Government to crack down.
It comes after the supermarket giant came under fire earlier this week for backing down on its plans to make customers pay for the thicker plastic bags, with one Woolworths employee reportedly assaulted by a customer angry at the changes.
But Coles announced yesterday it would offer reusable plastic bags for free indefinitely because customers were finding it too tricky to remember their reusable bags.
But Coles then made a decision to extend the giveaway of free reusable bags until August 1.
They also called on NSW Premier Gladys Berejiklian and the State Government to enforce a state-wide ban on single-use plastic bags, and urged Woolworths not to follow in Coles' footsteps.
In July, Coles initially removed single-use plastic bags from its checkouts nation-wide in a bid to be more environmentally friendly.
The supermarket giant on Wednesday chose to provide its thick, reusable plastic bags for free indefinitely, instead of charging 15 cents each as part of its program to get shoppers to switch from using single-use plastic bags.
"That's why we continue to reward consumers who keep in mind to bring their own bags", said the Woolworths spokesperson.
Drake drops 'In My Feelings' video chock full of cameos
Drake then asks Shiggy if he dances before eventually kicking him out of his trailer. However, by the end of the song, we discover it could all just be in Drake's head.
July 8 - The weekend that both Coles and Woolworths extended the free bag until.
"Clean Up shares shopper disappointment and dismay at this turnaround by Coles", said Terrie-Ann Johnson, managing director of Clean Up Australia.
Also whilst we're here, can we talk about how stupid and useless that new Coles "mini-collectables" campaign is.
"Today's announcement that the spotted plastic bag will continue to be a free feature at the checkout is a breach of faith".
The supermarket's chief executive office John Durkan sent an email to his 115,000 staff.
"It's interesting because the ban on single-use bags came as a result of pressure from customers and people calling for companies to take responsibility and stop using plastic bags".
"This decision makes a complete mockery of Coles' claim to want to reduce plastic waste and is a betrayal of the millions of their customers who want the supermarket to do the right thing in favour of a vocal minority", Greenpeace Australia Pacific campaigner Zoe Deans said. The only good part of this was the 15c charge, which would change people's behaviour over time.