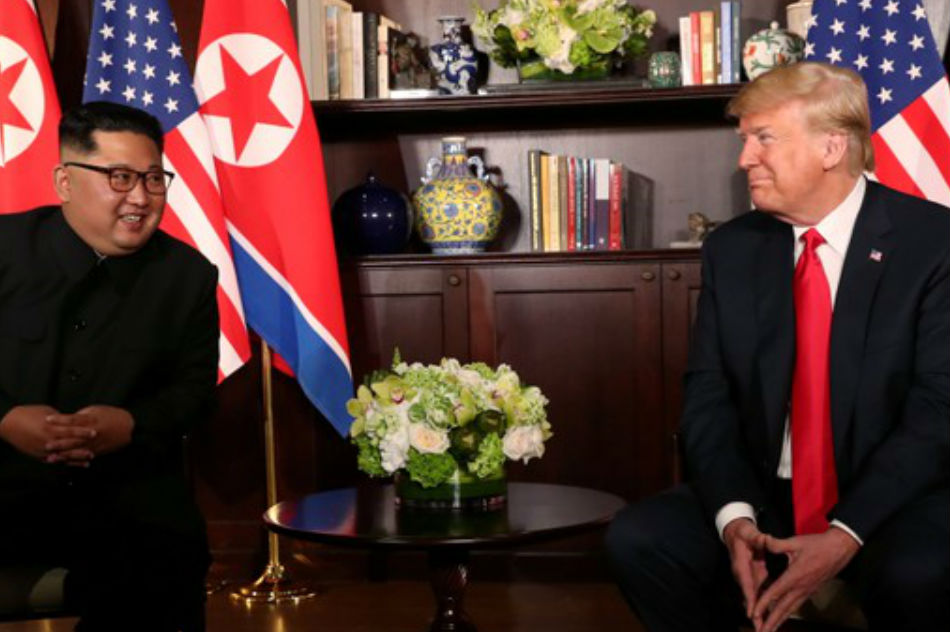 Trump and Kim are meeting in Singapore for historic talks aimed at finding a way to end a nuclear standoff on the Korean peninsula.
U.S. President Donald Trump sits next to North Korea's leader Kim Jong Un before their bilateral meeting at the Capella Hotel on Sentosa island in Singapore June 12, 2018. He agrees that the name is fitting for the message Trump wants to deliver, but wishes he would've chosen a different name. "Crazy" Castaldo said in a tweet, adding that he was trying to find out "why they used my company name".
The four-minute video in Korean and English was made in the style of an extended action movie trailer and portrayed Kim and Trump as men of destiny with the future of the world in their hands. But the White House "tried to fill in the blanks", he said, and in Kimmel Live's imagining, Trump gave away a comically large number of things.
The video was also broadcast during a press conference, and Trump bragged to reporters that he thinks Kim loved it.
There was news from the summit, Colbert said.
74 scammers arrested for hijacking email addresses, stealing money
Sometimes they'll ask for sensitive information such as employee tax records instead of, or in addition to, asking for money. The US said such scams are "prevalent" and pledged to pursue perpetrators "regardless of where they are located".
However, Leong said both found it hard to hide their nervousness once they were seated, with Trump displaying a slanted smile, and fidgeting with his hands and Kim leaning and staring at the ground.
Trump told ABC's George Stephanopoulous that he can only assess Kim based on their meeting.
North Koreas in attendance included Vice Chairman of the Central Committee of the Workers' Party of Korea Kim Yong Chol, who determines foreign policy and defense strategy for the country.
It also showed Fox News legal analyst Andrew Napolitano stating that Trump looked "more presidential this morning than I have ever seen him look" and host Laura Ingraham saying on her show that "it is a great time to be an American".