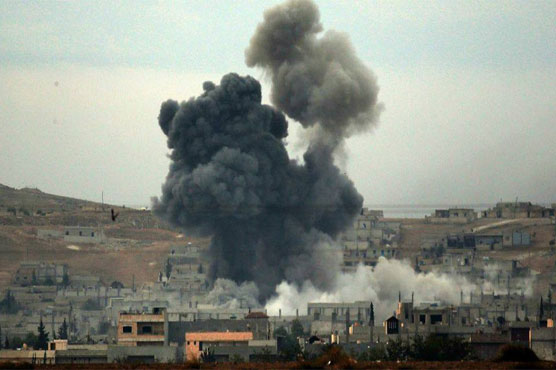 He added that the secretary-general underscored the precarious plight of the estimated 2.3 million people in Idlib governorate, 60 percent of whom are civilians displaced by the conflict from other areas, most recently from Eastern Ghouta.
Elsewhere in Syria, he said the numbers of people stuck in besieged or other areas humanitarian workers can not easily access has shrunk dramatically since a year ago to just over two million people.
"From January to April, there were over 920,000 newly displaced people", Panos Moumtzis, the United Nations regional humanitarian coordinator for Syria, told reporters in Geneva.
But for the people of Idlib, "there is no other Idlib to take them out to", Moumtzis said.
Takfiri terrorists have attacked the besieged Shia-majority Syrian towns of Kefraya and al-Foua, sparking deadly clashes with pro-Damascus fighters, a UK-based monitoring group says. Russian Federation is a main backer of Bashar Assad's forces and has helped turn the tide of war in his favor with a campaign of airstrikes.
Since Russia intervened in its support in 2015, the government has regained control of around half of the country. "Our worry is that with the Idlib situation we may have not [yet] seen the worst in Syria".
It was designated past year as a de-escalation zone, but violence has been creeping up again.
FBI agent who dropped gun while dancing charged with assault
Footage of the incident shows Mr Bishop dancing with a crowd around him when he suddenly thrusts himself backward onto his hands. Multiple sources told 9Wants to Know that Bishop is not assigned to the Denver office and works out of Washington D.C.
The attack was led by the forces of President Assad.
Turkey, Iran and Russian Federation launched a Syrian peace process in Astana, which aims to complement the United Nations -brokered talks in Geneva, to bring an end to the seven-year conflict in the country.
The spokesman noted that the Secretary-General recalled that Idlib is part of the de-escalation agreement reached in Astana, and called on its guarantors "to uphold their commitments".
"The humanitarian response on the ground is really at a breaking point".
Moumtzis said that 920,000 people were displaced within Syria between January and April, the highest number of any four-month span since the war began.
Wouter Schaap, the Syria director of CARE, a leading humanitarian organization fighting global poverty, said the figure 920,000 of people displaced "is shocking, and shows that the war in Syria is far from being over".
Some 6.2 million people are internally displaced and a further 5.6 million have fled the country amid an ongoing conflict that has claimed hundreds of thousands of lives and destroyed basic infrastructure. "This was the highest displacement in that short period of time we have seen since the conflict started", he said.