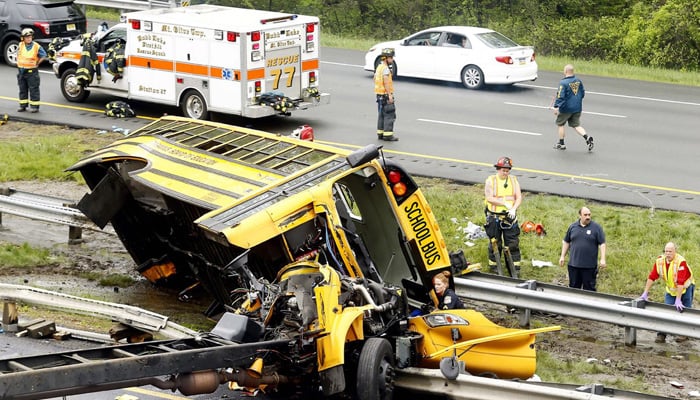 The Paramus school system said that the bus was taking students from East Brook Middle School to Waterloo Village, about five miles from the crash scene.
Phil Murphy says the crash has killed a student and a teacher.
The injured were being rushed to at least two area hospitals.
Cadaver dogs were seen searching the woods near the bus crash.
The National Transportation Safety Board said it is gathering information about the crash.
Theo Ancevski, a student riding on the bus, told the AP he was sitting in the fourth row from the front when it crashed.
"A lot of people (inside the bus) were screaming and they were like, hanging from their seat belts", he added. The other buses made it to the site, but returned to the school about 50 miles (80 kilometres) away. The undercarriage with the bus wheels lies perpendicular to the overturned bus, stretching out over multiple lanes of the highway. They were on a field trip to Waterloo Village, which depicts a Lenape Indian community. The two other buses were not involved in the crash and sent back tot he school. They were then reunited with their families.
A sign outside of the East Brook Middle School in Paramus informed people to go to the auditorium for updates on the accident.
House Speaker Paul Ryan moves to stop Republican revolt on immigration
Ryan's choosing. "It was a conversation, I'm not going to divulge all the details ... but it was productive", Curbelo said. Ryan emphasized that his leadership team does not agree with discharge petitions. "We don't like discharge petitions".
According to the National Highway Traffic Safety Administration, 118 people on school buses were killed in crashes from 2007-2016, the past year for which data is available. "It was just frightful what happened".
Images from the chaotic scene in Mount Olive Township show the body of the bus shorn from its frame and pushed into a median guardrail, resting at an angle. A school district official said its superintendent was preparing a statement. "In terms of the nature of the damage to the bus, it's pretty horrific", Greenbaum said.
No additional details on the children or any injuries were available.
About 10 victims were taken to St. Clare's Dover Hospital and St. Clare's Denville Hospital, according to Communications Director Patty Montgomery. Of them four were discharged by 4 p.m., one was admitted, two were in treatment and three were transferred to other hospitals. It is unclear how many students were aboard the bus or the number of vehicles involved in the collision.
A large red dumper truck, also with a mangled front, was at the side of the road.
Mount Olive police say westbound traffic is being diverted off Route 80 at exit 26 and to expect heavy delays along Route 46.
All evening activities have been canceled for Thursday and Friday.