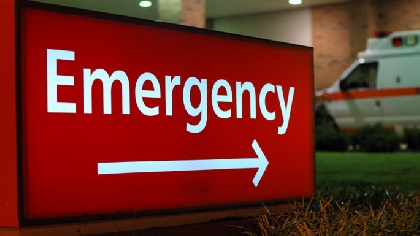 Doctors have described corridors overflowing with patients and ambulances queuing outside A&E as the winter flu season begins to take hold. "I'm afraid there are serious issues with capacity, far too many bed closures that have happened and probably not enough money that's gone in over a number of years now to keep up with the sheer scale of the increase in demand and complexity".
NHS patients missed eight million hospital appointments in England alone a year ago, costing almost £1billion of taxpayers' cash.
The data held by Public Health England shows the flu season now underway across England and will spread to the rest of the UK.
Ninety-nine people were forced to wait between 30 minutes and an hour outside the hospital in November - with nine waiting for more than 60 minutes. Now however, a further extension of this policy was announced, stretching to the end of January, and potentially putting 55,000 medical interventions on the back burner.
"I would urge people to avoid the hospital's Emergency Department unless it is a genuine emergency. And it's going to get worse unless years and years of cuts are reversed". The hospital said that it had been "extremely busy".
"It's clearly not just a few isolated hospitals that are having problems".
Last year, fire crews were sent to more than 44,000 emergency calls which would normally have been dealt with by ambulances - a rate of 120 a day.
Health boards attributed the rise in demand to acute seasonal illnesses, with the rate of GP consultations for flu and respiratory infections rising by over a quarter during the period.
Irish abortion plan 'may be step too far'
It was a private and personal matter and there was a diversity of views in "almost every household in the country", Mr Varadkar added.
Vital, time-critical operations are also being delayed for long periods due to the chronic beds shortage gripping the NHS, The Mail on Sunday can reveal.
Officials have confirmed that seven operations have been cancelled at the Gayton Road site today, following national media reports of a major crisis in the service.
Leeds Teaching Hospitals NHS Trust has warned of delays in its accident and emergency departments and asked people to consider alternatives to A&E.
The move follows the latest data from the Royal College of Emergency Medicine's Winter Flow project showing a continued decline in performance on the 85 percent four-hour A&E standard, which stood at 78.14 percent for the third week of December, down from 81.52 percent the previous week.
She called for people to cancel appointments in "good time".
The drastic step is to try to free up hospital staff and beds.
"It's not the fault of the hospital trusts across Lancashire".